Rent a Room at Mantorville Farms
Stay in the Country; Peace, Quiet & Nature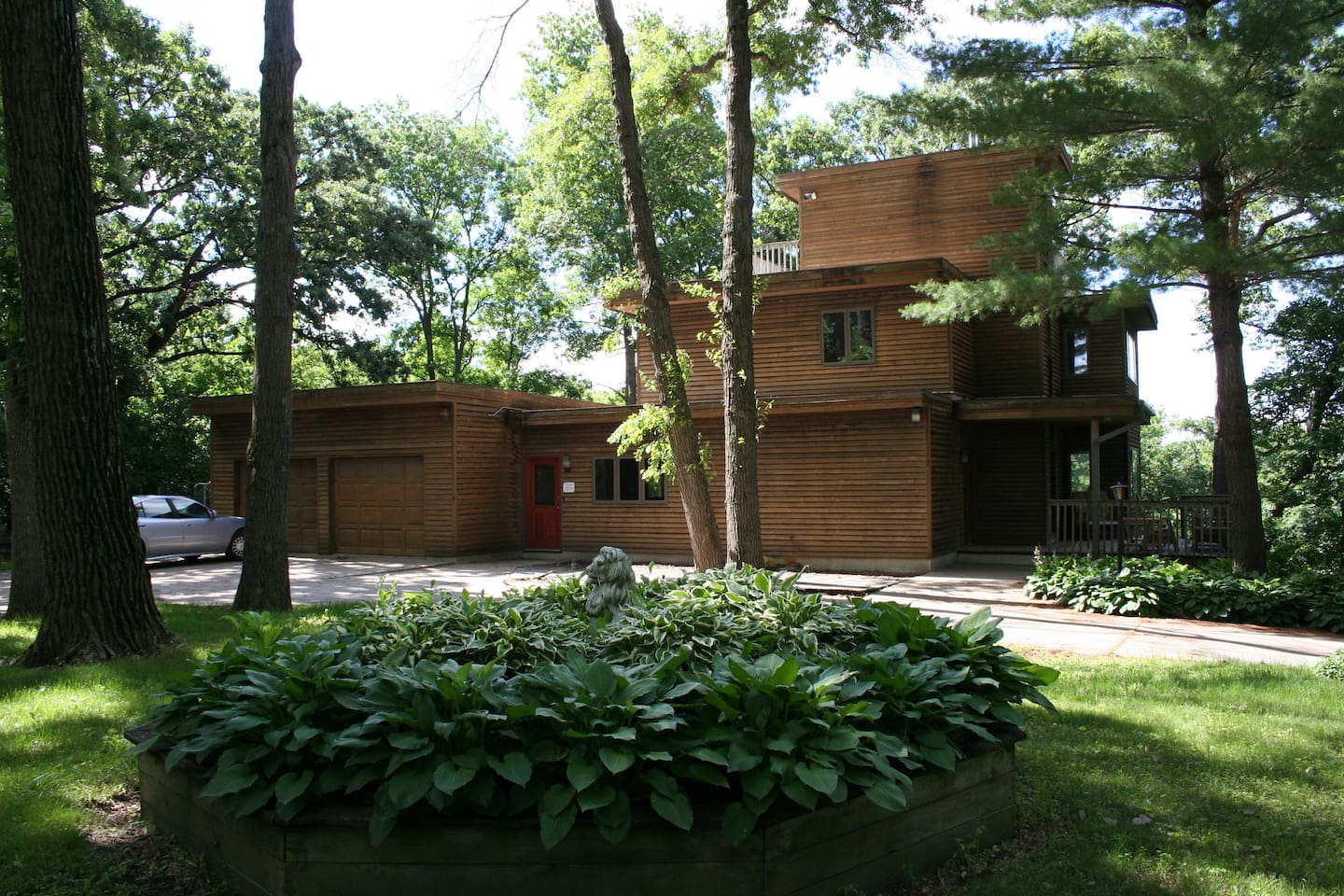 Mantorville Farms is set in the woods above the Zumbro River just west of Mantorville, Minnesota. We're just 25 minutes from the Mayo Clinic in Rochester. The house has 4 levels and guests have access to most areas including the kitchen and laundry room. The guest bedroom looks out over the river. The "guest only" bathroom has a shower, toilet and sink. We call our place Mantorville Farms because that is the name of the internet business we operate out of the house.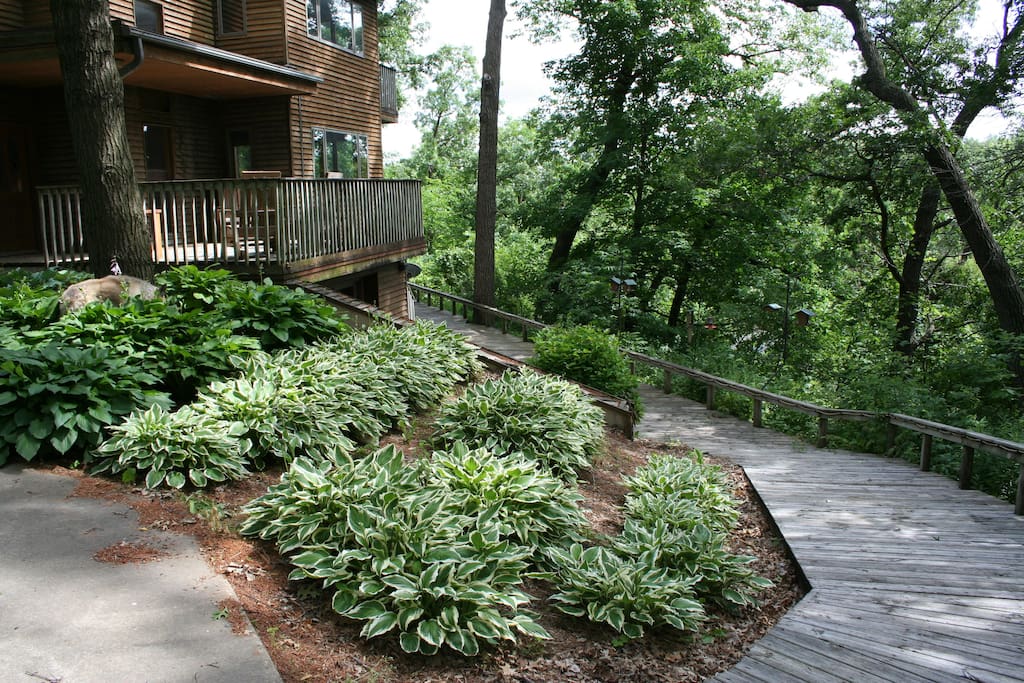 The space
You can walk out to the main deck from your bedroom. Walk along the deck and down the stairs to the river's shore. We're making trails along the river so you can see Minnesota nature at it's best. There is a gas grill on the dining room deck and in the large kitchen you will have your own refrigerator, freezer and cupboard. Our multi-level home has many stairways and you will have to use a stairway to get to your bedroom. We have a Queen size bed in your room along with large goose down pillows. We have one 12 year old German Shepard living with us. Maddie will not approach guests unless you stay with us a while and she gets to know you; even then, you will have to encourage her to approach you.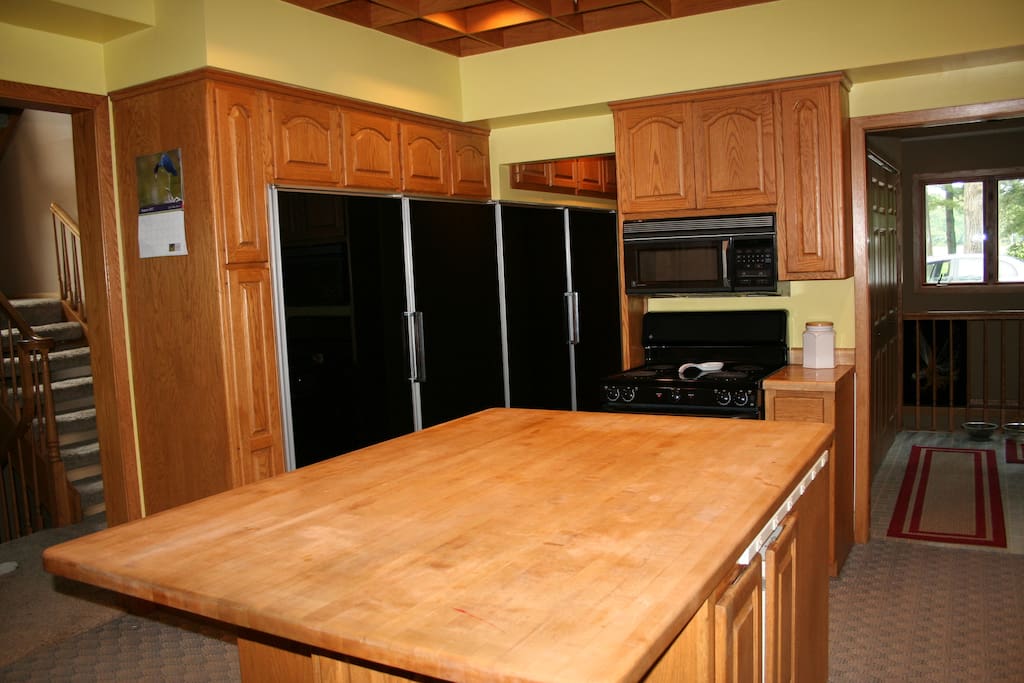 Guest access
Guests will have access to all areas of the main level. This main level includes the kitchen, guest bathroom, living room, dining room and laundry room. The guest bedroom is located on the level below the main level. A private bar/pub is also on this lower level. The bar is not stocked, but you are welcome to bring your own beverages. Our home based internet business (Mantorville Farms) is also on the lower level. The third level is above the main level. The third level is not available to guests, but you can pass through it to get to the fourth level. The fourth level has a small reading nook and also provides access to a large roof top deck that overlooks the river valley. Guests have full use of the fourth level.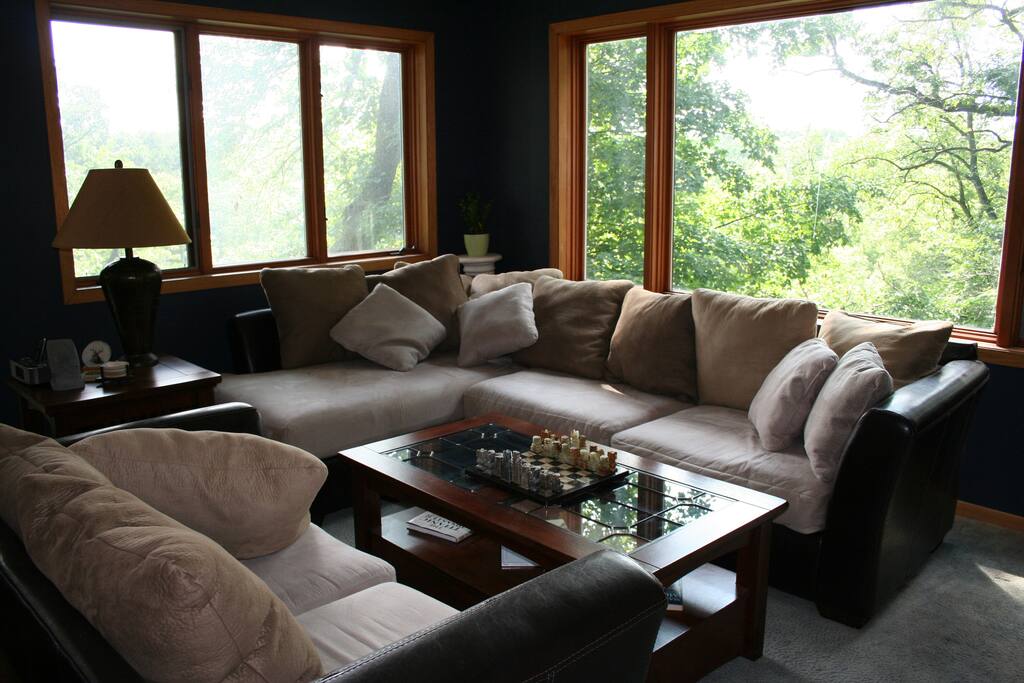 A Quiet Game of Chess

Interaction with guests
We have full time jobs, so you will be alone in the house most days. We will be there every night. You can reach Terry on his mobile phone 24/7. Terry's son just graduated from college and is around some days depending on his schedule.  Click here for Terry's LinkedIn profile.

Other things to note
Mantorville is a small historic village with 3 popular and unique restaurants. We also have 3 pizza restaurants that deliver to Mantorville Farms.
It was a delight staying at Terry's home and he is a wonderful host. His home is situated in a beautiful setting with plenty of wildlife, trees and sounds of nature. There are decks around this home on every level so you can wander around and find just the right spot to relax and enjoy the beauty of this peaceful property. We loved every second we were there and can't wait to visit again!
This B&B is in a quaint/charming little town. The town has 3 antique/boutique shops and an Opera/Play House (we missed the show that Saturday night, but was told it is highly recommended). In Mantorville, we recommend the County Seat for lunch and the Hubbell House for dinner, very good food. Terry's place is minutes away from Mantorville and 25 minutes to Rochester. We recommend spending part of day in Rochester walking, shopping and eating around the Mayo Clinic. Terry's home is out in the country and is peaceful and tranquil. You will see deer, wild turkeys and owls. When you are sitting on one of his many decks, all you hear is the sound of water and nature. His home is well maintained and clean. The home is also equipped with everything you need to stay for a weekend or an extended stay. Terry has a lovely older dog named Maddie, she was very gentle and followed Terry wherever he went. Maddie never bothered us. If you are looking to get out of the rat race and unwind, this is the place to stay. Terry is a great host and is a wealth of knowledge when it comes to the local town and Rochester.
Pricing
Sunday through Thursday         $     99 per night
Friday and Saturday                  $   149 per night
By the Week                              $   599 per week
By the Month                             $1,999 per Month
To make a reservation, call Terry at (507) 951-2942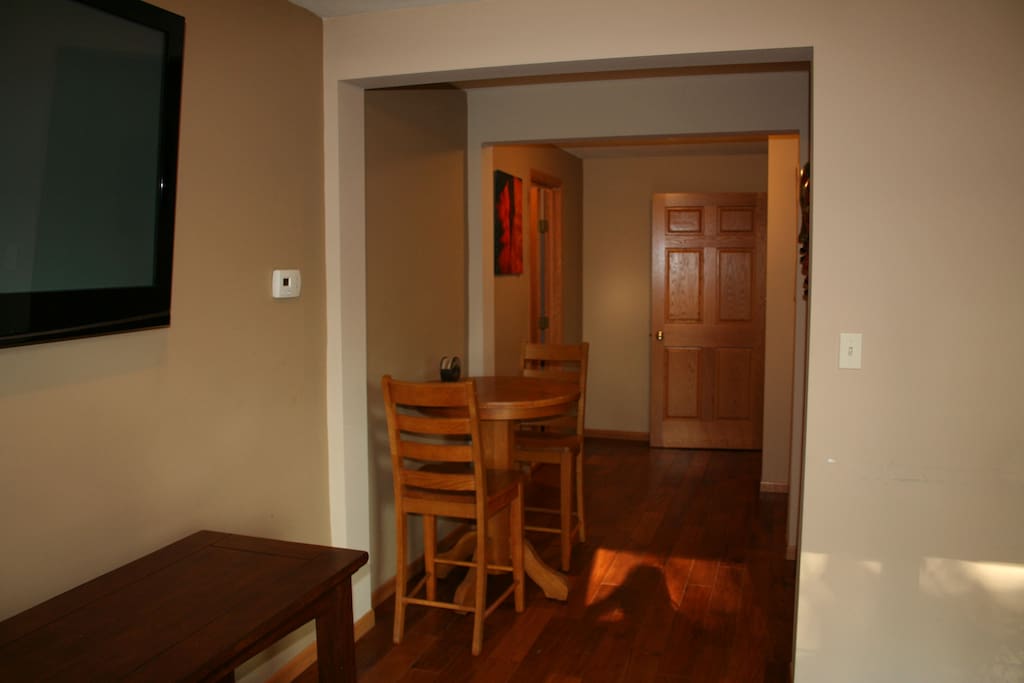 The bedroom has a big screen TV and a high top table
The bedroom has a fire place and a patio door to the deck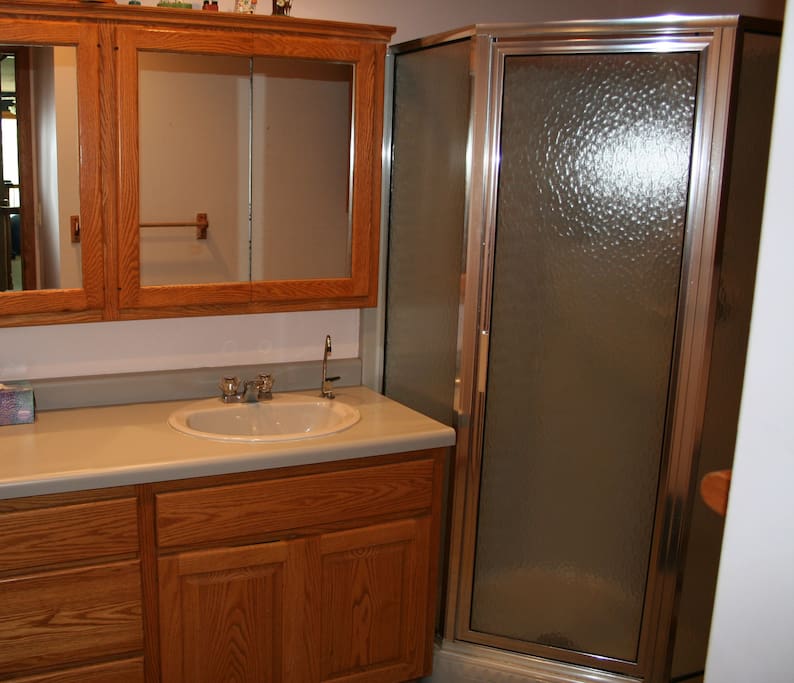 Guest Bathroom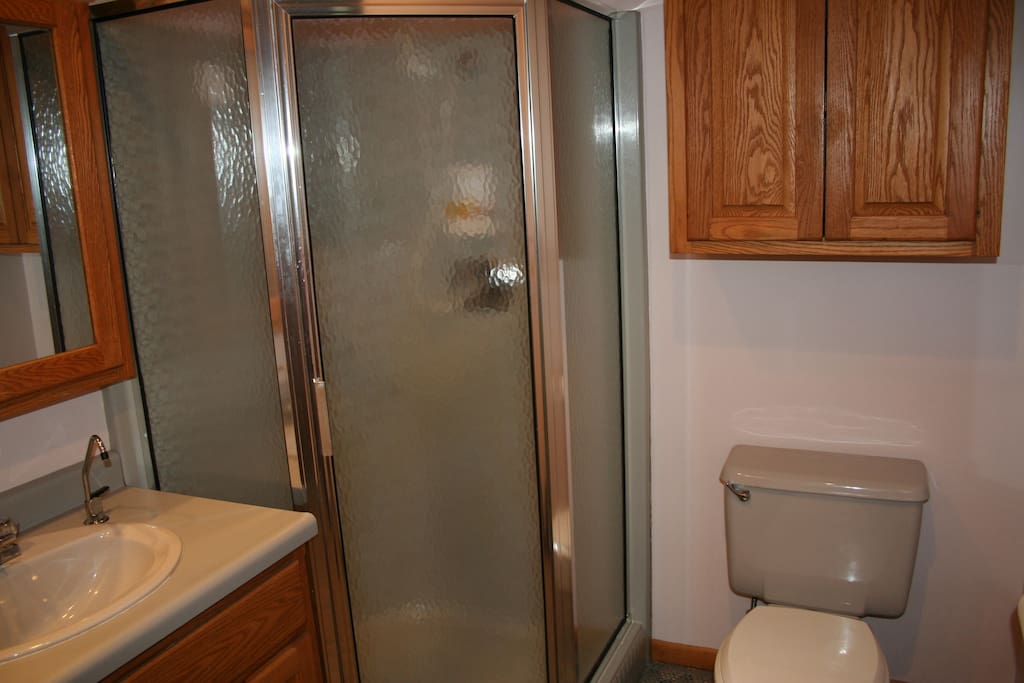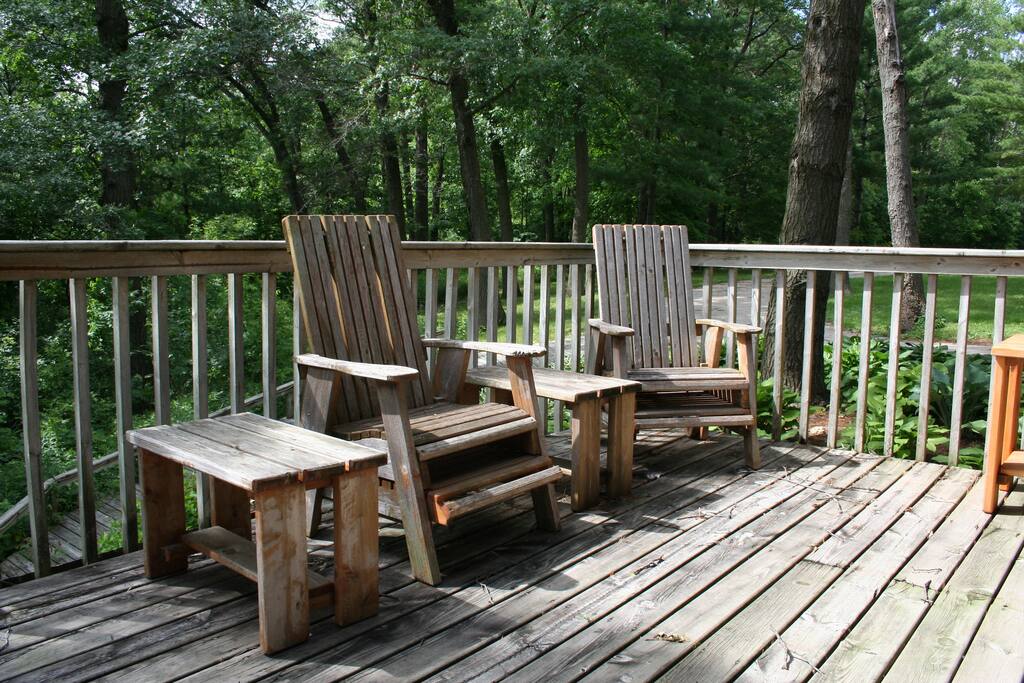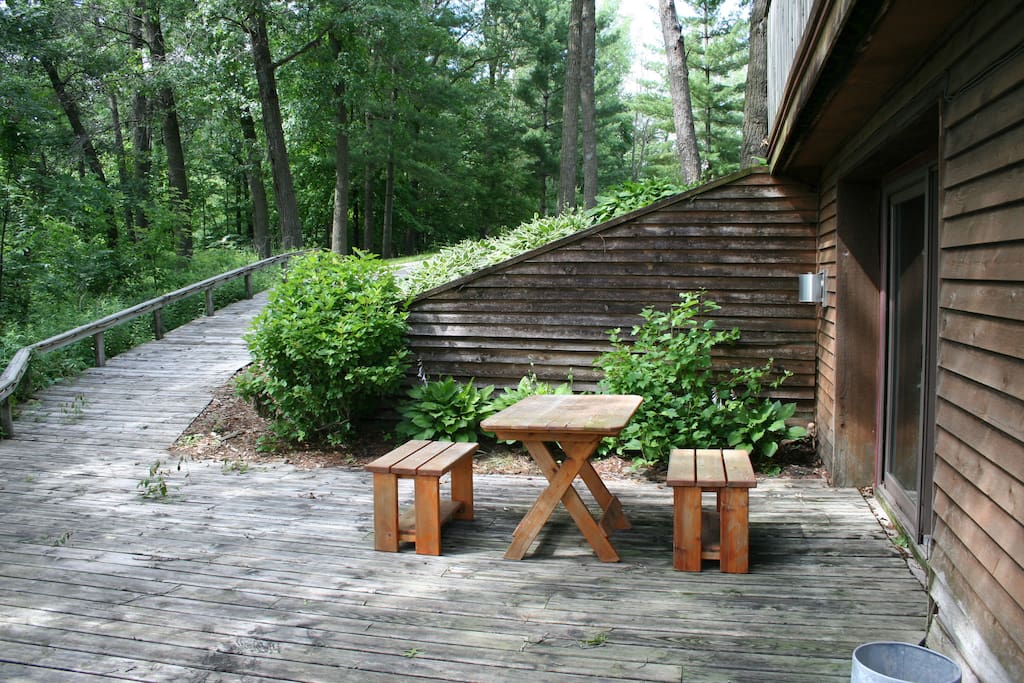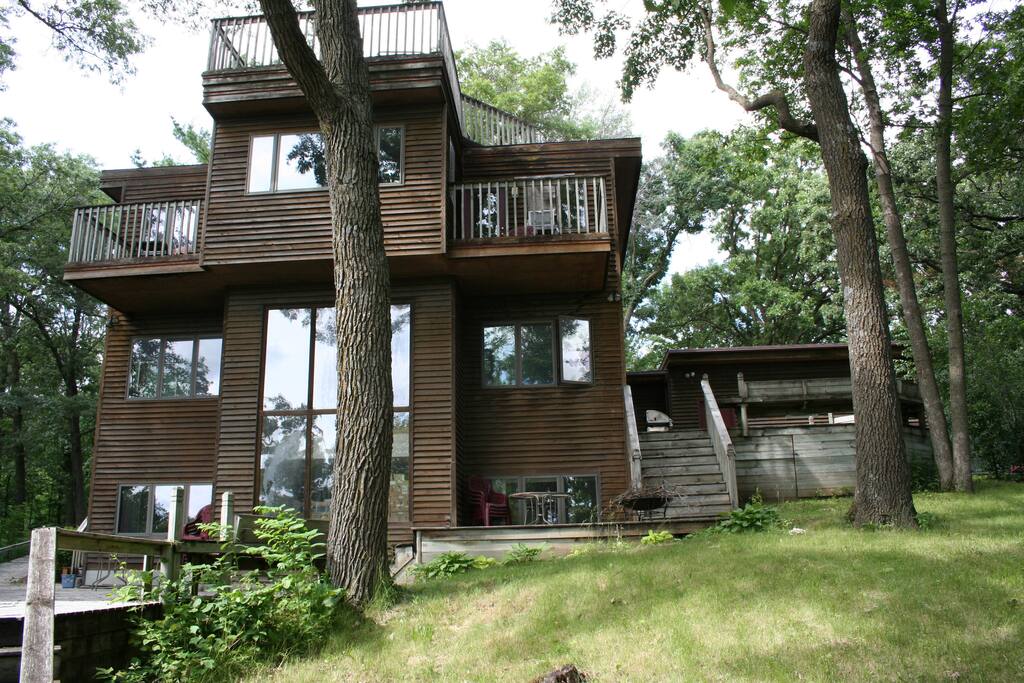 Back Yard with a View of all 4 Levels of the House
To make a reservation:
Call Terry at (507) 951-2942
Email:
Terry@MantorvilleFarms.com
You can also make your reservation through:
---
---
Sorry, there are no products in this collection