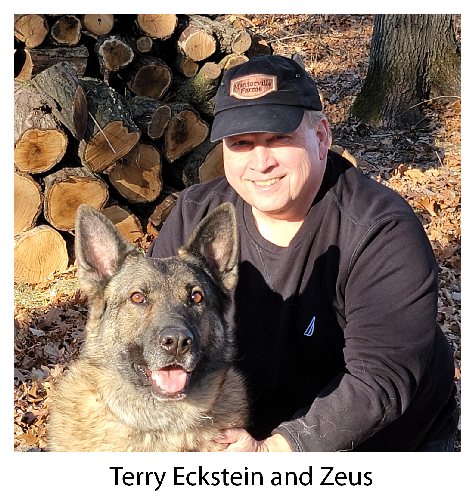 Short Story Blog
11/24/21 by Terry Eckstein
Zeus
By Terry Eckstein
I have been a Christian all of my life, but now I rely on a Greek god to protect me.
Toward the end of 2018, I said goodbye to the German Shepherd who had provided me with protection for many years. Maddie was 14 years old when it was time to put her down. I tried living without dogs for several months, but was having trouble sleeping through the night because I live alone in the woods at the end of a dead-end road and would hear different noises every night; I was getting up to investigate every noise I heard. 
When I put out the word that I was looking for a German Shepherd, a friend suggested I look at Paws N Claws in Rochester MN. So, I made an appointment to visit two Shepherds there. When I arrived, I waited in a visitation room. The person helping me said he'd bring in Zeus first. He told me that Zeus was large and sometimes aggressive and so he wasn't sure how Zeus and I would get along. Already, I didn't like the name Zeus and decided I would give him a new name if I chose him.
After a few minutes, the man returned and Zeus sat on the floor at the other end of the room. Zeus and I stared at each other for a while. He looked scary, which is what I wanted. After a bit, I said, "Zeus" and he immediately got up and walked toward me. I was still sitting in a chair as he approached. I held out my hand for him. Zeus walked straight to me, ignoring my hand. Instead, he chose to lick my face and sit down right next to me. 
The man said it was apparent Zeus and I were going to get along, I chose not to meet the other Shepherd. I wanted Zeus. And, because it's obvious that he knew he was Zeus, I decided not to rename him. 
It took a week to process my adoption application, during which time Zeus was neutered. He was two years old and 71 pounds. But Zeus was still growing! After just one year with me, he was much taller and a little over a hundred pounds. 
Whoever surrendered Zeus for adoption had done a good job of raising him. Zeus was housetrained and he'd been taught to stay off the furniture and to not jump on the bed. The only thing I didn't like was that he seldom barked. I needed him to alert me to visitors and to anything else that was unusual, so I started providing positive reinforcement whenever he did bark. Within a couple weeks he'd developed a loud, deep bark he now uses for anything entering his territory. 
Zeus has plenty of territory to patrol. To keep him home, I installed an invisible fence that encompasses the front yard and five acres of woods and prairie behind our house. His domain includes a spring-fed creek that drains into the Zumbro River and provides a cool place for him to splash around during the hot summer days. Zeus has his own door to go in and out of the house freely. He likes to sleep outside through 3 seasons; in the winter, he prefers to sleep inside the house, next to his dog door.
When visitors arrive, Zeus barks until I come outside. He remains alert, ready to attack anyone who threatens me. When he observes and hears friendly conversation between the visitor and myself, he relaxes and gets to know his new friend.
When I had COVID with severe symptoms for ten days, Zeus knew something was wrong. Instead of sleeping outside, he slept on the floor next to my bed until my health returned. The bond between us is strong. I have been blessed with a very dear friend.
I'm sleeping better these days. Now, when a noise wakes me up at night, I go right back to sleep, knowing that Zeus will take care of me.